A*/A guaranteed or your money back
An investment into your child's future
Up Learn courses provide industry-leading learning content, personalised revision plans, and 1-1 tutor support for less than a quarter of the price of traditional tutoring
SUPPORTING YOUR CHILD


An Up Learn course is a smart choice
Technology and AI enable Up Learn to tailor courses to your child's strengths and weaknesses, delivering them a world-class educational experience and supporting your child anytime, anywhere
Risk-Free
No more stressing over finding a good tutor. Up Learn courses

guarantee

your child an A*/A in their exams or your money back
Unrivalled Quality
97% of students that complete Up Learn courses achieve A*/A. Nothing else can match this performance


Value for Money
Less expensive and more effective than tutors and revision courses; benefitting your child, and your pocket

FEATURES
Up Learn Parent Accounts
In addition to your child receiving everything that they need to get the best grades at A Level, your Up Learn parent account provides you with the tools you need to monitor their progress and performance
Up Insights
View what the course covers and how your child is doing in each topic (the coloured progress bars). This gives you an indication of where their strengths and weaknesses currently lie, and you can encourage them to 'Strengthen' topics that appear weak, or in red

Manage Your Account
Add extra Up Learn courses, chat to our team of experts, edit/upgrade or cancel your subscription if you're on a weekly plan, and adjust your payment method

Progress Overview
You can view your child's level and overall progress (Up Intelligence Score) as a percentage. This is actually the most important thing to keep an eye on as it shows you your child's overall mastery and completion of the course. The closer they are to 90%, the closer they are to being A* ready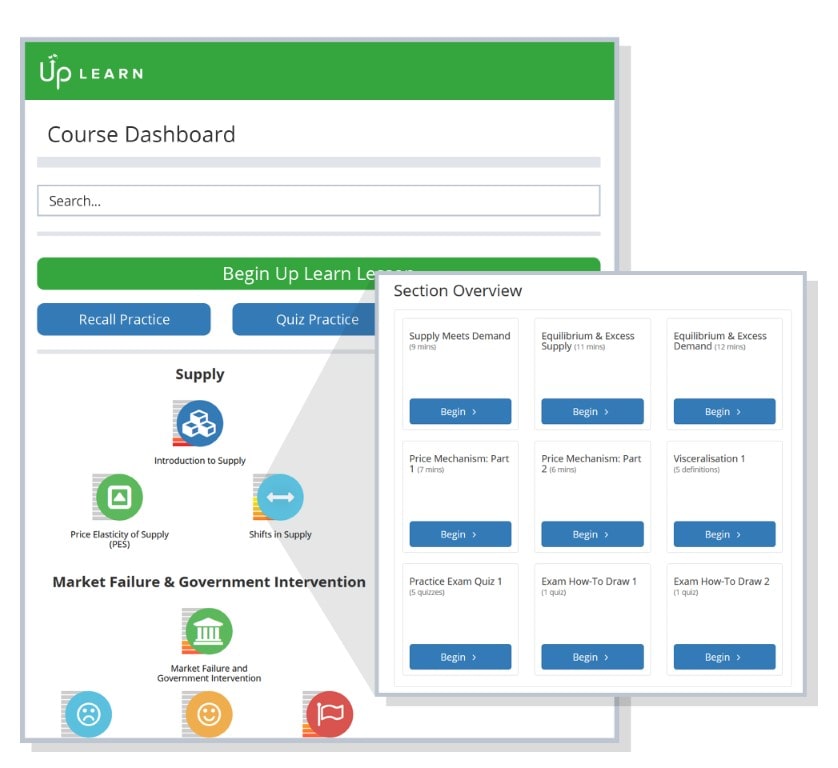 WHEN TO BUY
Year 12 or Year 13?
The best time for your child to start using Up Learn is just before they start Year 12. This flipped learning approach will enable them to build a knowledge base, which they can then consolidate in class. They will then find learning throughout the year much easier and less stressful, as well as be ahead of their classmates.
If your child has already started Year 12 or Year 13, you'll want to buy Up Learn as soon as possible.
In Year 12, Up Learn will help your child perform better in mock exams (or AS exams, depending on exam board). As a result, they will have higher predicted grades and a stronger reference for their university application
In Year 13, Up Learn has regularly helped students improve their performance and consolidate their already strong grades to meet their university offers. Students using Up Learn have also told us how they have felt less stressed whilst using Up Learn – their confidence has grown as they have understood topics more and retained knowledge better.
THE BETTER CHOICE
Up Learn vs Regular Private Tutor
Up Learn alumni can be found at top universities such as Oxford, Cambridge, LSE & Imperial, or taking a year out to apply to top universities after achieving much higher grades than expected
Up Learn
£
24999
per A Level subject for the school year


97% A*/A success rate for students that complete Up Learn

.

Additional one-to-one tutor support anytime, anywhere from our specially trained Up Tutor team

Subject and exam board specific

Detects weak spots and gaps in your child's knowledge and focuses on those until resolved

Interactive video lessons covering your child's entire syllabus, exam technique and exam examples

Hundreds of videos, thousands of questions, and exclusive exam practice papers to help your child master every topic

Educational neuroscience helps your child learn more effectively, and retain knowledge longer
Typical Private Tutor
£
1,400+
per A Level subject for the school year

1 hour per week at £40/hr, for the school year
No tutor can guarantee you an A*/A grade

Highly variable tutor quality. Perhaps even a university student with minimal prior experience

No support outside of lessons

Subject but not exam board specific

Lacks big picture view of your child's progress across different topics

Unstructured lessons helping your child with only a small portion of what they need to get an A* in your subject

No additional resources so your child will have to fend for themselves

Offers counterproductive advice based on false intuitions, rather than the science of learning