The New Normal

The coronavirus pandemic has had an unprecedented impact. Schools have had to transition to online learning overnight. Students have missed out on a huge amount of tuition. Teachers have seen their workloads inflate. Added to that, we've all had to try and balance work with the new realities of working from home. 

We don't know what the future might hold. But, through it all, Up Learn is here to support students, teachers, parents and schools.

COVID-PROOF SUPPORT FOR STUDENTS
Catch up with Up Learn
Being away from school doesn't mean that students can't learn new content. Up Learn is a comprehensive learning platform. We deal with everything from instruction of new content to preparation for internal and external exams and assessments.
We're here to help students who feel as if they may have missed out by working at home. We're just a click away, regardless of what happens in the coming months.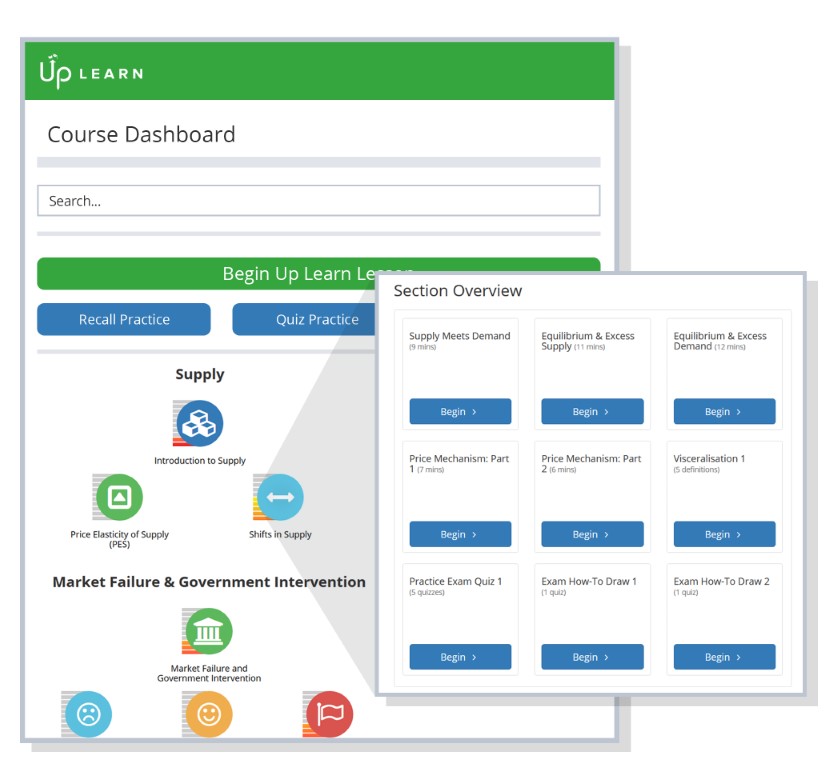 CLASSROOM ASSESSMENT
Every day is an exam
Assessment during the 2020-21 academic year is uncertain. The UK government are standing by teacher assessments (i.e., classroom exams marked by teachers, assessment of homework/coursework). 2020 saw grades based on teachers' assessment of work students had already handed in.
Students can't rely on cramming before their final exam any longer. Schools are closing at a moment's notice, and students need to show that they are worth their grades with every piece of work they do and every question they answer.
A good mock result could be the difference between a dream university place and having to re-apply. Consistent use of Up Learn throughout the year will allow students to get the grades that they deserve and beat any algorithms.
UP LEARN PERFORMANCE REPORTS
Evidencing your grades
At Up Learn, we're able to provide a huge amount of data on student performance.
We can determine the amount of quizzes and videos a student has completed and provide assessed exam practice.
All of this is available in official Up Learn Reports that teachers can use in their portfolio of evidence when deciding your grade in 2021.*  Our advanced algorithms assess students' progress, and enable students, parents and teachers to download a report that evidences their performance.
We are proud that these certificates helped many students receive the A Level grades that they deserved on Results Day 2020.
*Note: The evidence submitted as a part of the Centre Assessed Grading and Moderation process is entirely at the discretion of the examination centre. Up Learn does not accept responsibility for the specific weight and assessment by teachers or exam bodies.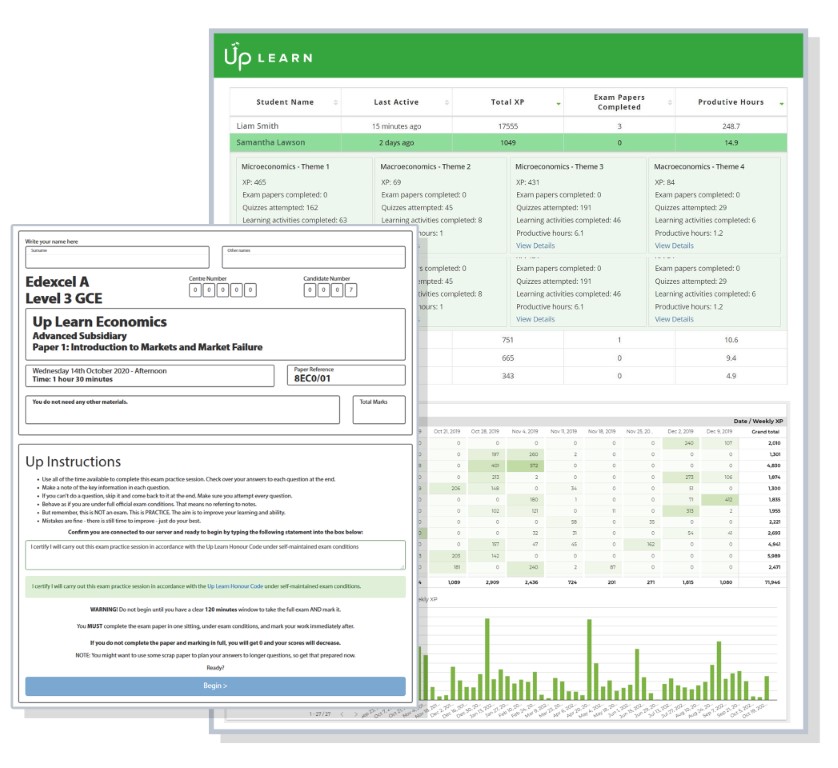 EDUCATION FIRST, TECHNOLOGY SECOND
Here to help
Up Learn is here whenever you need us. We can help students catch up. We can reduce the pressure on teachers. We can do the content instruction, the homework or both, all remote. And, we'll always be available.
Be safe in the knowledge that you'll have everything you need in the future with your Up Learn licence. With Up Learn, learning, teaching and exam preparation is sorted as we move forward through these uncertain months.