COVID-PROOF YOUR A LEVEL GRADES
Get top grades this summer. Teacher-assessed grades included
Up Learn courses provide everything that A Level students need to stay on top of their schoolwork from the comfort of their own home. Our engaging courses have been described as "Netflix for education" and can be completed at your own pace and in as little as 8 weeks.
Our A*-A guarantee applies to teacher assessed grades for summer 2021. How? We know that, if a student uses Up Learn this year, they'll be performing at an A*-A standard in mocks, internal exams, coursework, classwork, homework and any other assessments.
Take back control of your A Level grades today.
No payment info required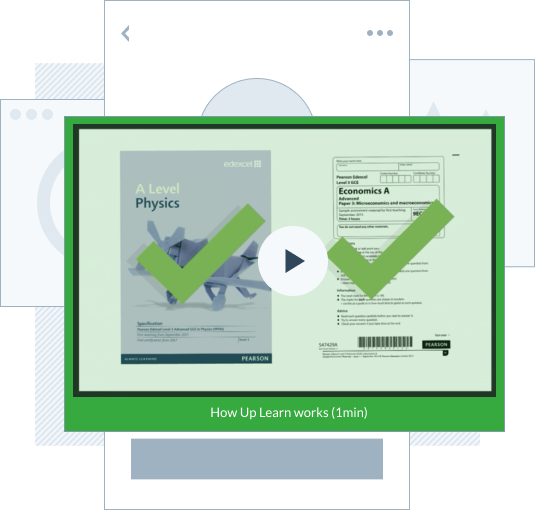 A*/A achieved from completed Up Learn courses in the last 2 years
Customers in the last 12 months
Learning minutes in the last 12 months
OUR TECHNOLOGY




Why we are different
We offer the most effective, enjoyable and effortless way for any student to achieve top grades by leveraging cutting-edge cognitive science research (the science behind great teaching) and technology. Students no longer need to worry about finding a great tutor or teacher, and teachers no longer need to worry about individual students falling behind
Cognitive Science
The best and most academically rigorous research. Learn as fast as possible and retain your knowledge – no matter your background or starting point
Engaging Content
Our concise, understandable and interesting videos have been described as like "watching Netflix, but for education


Artificial Intelligence
Our AI continually assesses your performance – from measuring your confidence, to determining which topics you need to strengthen
OUR INTERACTIVE PLATFORM
How it works
Up Learn enables any student, regardless of their background or starting point, to get top grades. We leverage cutting-edge cognitive science research (the science behind great teaching) and technology to deliver the best educational experience to each and every student. Students no longer need to worry about finding a great tutor or teacher, and teachers no longer need to worry about individual students falling behind.
Adapts to You
Our algorithm identifies your weak spots and focuses on those, until you're achieving A* scores across every topic
Engaging Content
Learning doesn't have to be boring – our interactive videos help time "fly" whilst also allowing you to learn faster
Thousands of Resources
Packed with exam techniques, model answers, quizzes and practice exam papers written exclusively for Up Learn – all exam-board specific
Optimised Learning
Up Learn creates a unique plan based on how long you have until your exam, and how well you know each topic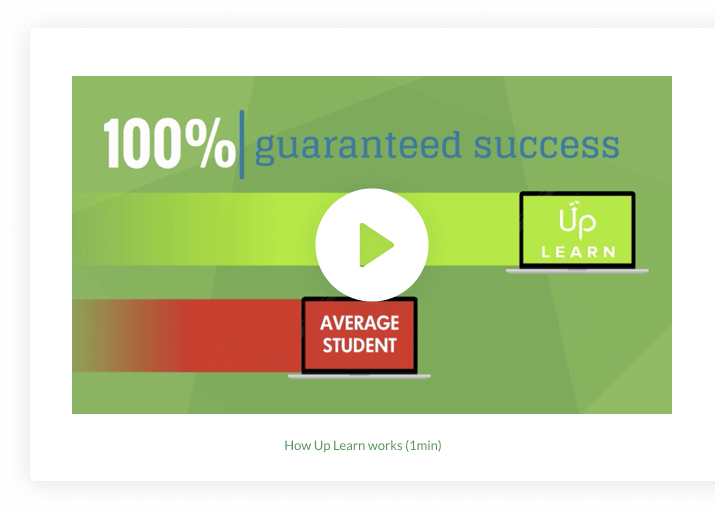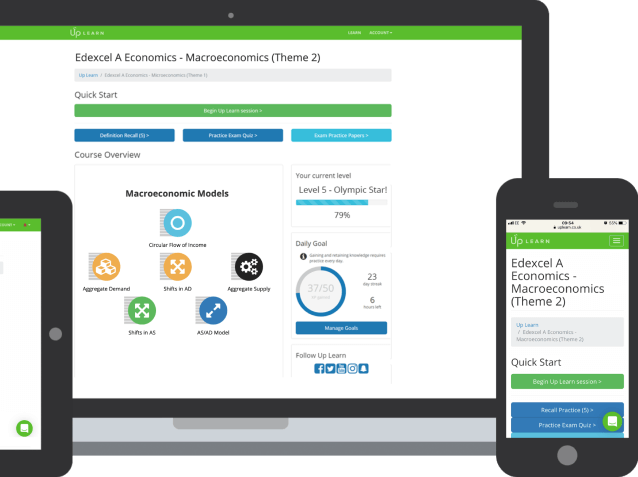 24/7 Tutor Access
Our Up Tutors are trained in the same cognitive science that underpins our courses. If you need a helping hand, know that you're getting the best support, no matter where you are or when you need it!
Cognitive Science
Our content creators use only the most academically rigorous and effective cognitive science techniques when building our courses, giving you the best results possible
Upgrade your Memory
Definitions to remember? Formulae to recall? Learn using the same techniques World Memory Champions use
World Class Educators
Our team bring decades of experience successfully applying cutting-edge academic research to deliver results, accumulating numerous accolades along the way
WHAT YOU GET
Every course includes
Interactive Video Lessons
Video content that keeps you engaged and regular activities that keep you from losing focus
Detailed Quizzes
Technical, Memorisation and Mastery quizzes gradually build up your knowledge and understanding
Exclusive Practice Papers
Written by real examiners exclusively for Up Learn in order to give you additional confidence when preparing for exams
Progress Tracker to A*
Bespoke assessment and practice questions to chart your grade gains as you progress
LOCKDOWN-PROOF SUPPORT FOR STUDENTS
Catch up with Up Learn
Being away from school doesn't mean that students can't learn new content. Up Learn is a comprehensive learning platform. We deal with everything from instruction of new content to preparation for internal and external exams and assessments.
We're here to help students who feel as if they may have missed out by working at home. We're just a click away, regardless of what happens in the coming months.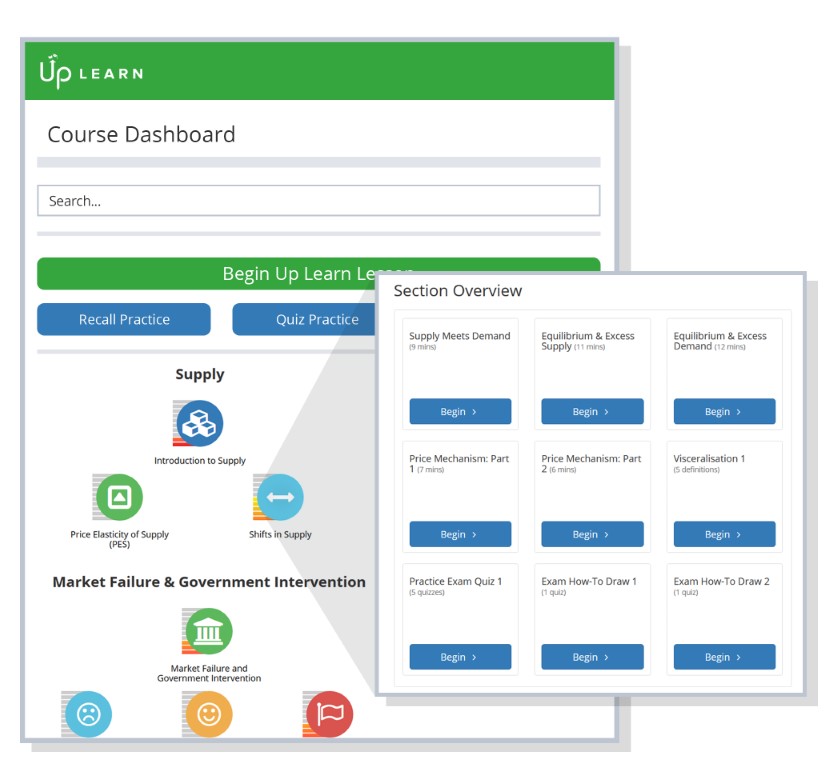 CLASSROOM ASSESSMENT
Every day is an exam
Assessment during the 2020-21 academic year is uncertain. The UK government are standing by teacher assessments (classroom exams marked by teachers, assessment of homework/coursework). 2020 saw grades based on teachers' assessment of work students had already handed in.
Students can't rely on cramming before their final exam any longer. Schools are closing at a moment's notice, and students need to show that they are worth their grades with every piece of work they do and every question they answer.
A good mock result could be the difference between a dream university place and having to re-apply. Up Learn allows students to get the grades that they deserve and beat any algorithms.
UP LEARN PERFORMANCE REPORTS (coming 29th March 2021)
Evidencing your grades
At Up Learn, we're able to provide a huge amount of data on student performance.
We can determine the amount of quizzes and videos a student has completed and provide assessed exam practice.
All of this is available in official Up Learn Reports that teachers can use in their portfolio of evidence when deciding your grade in 2021.* From today, our advanced algorithms will assess your progress, and from 29th March onwards you will be able to download a report that evidences your performance.
We are proud that these certificates helped many students receive the A Level grades that they deserved on Results Day 2020.
*Note: The evidence submitted as a part of the Centre Assessed Grading and Moderation process is entirely at the discretion of the examination centre. Up Learn does not accept responsibility for the specific weight and assessment by teachers or exam bodies.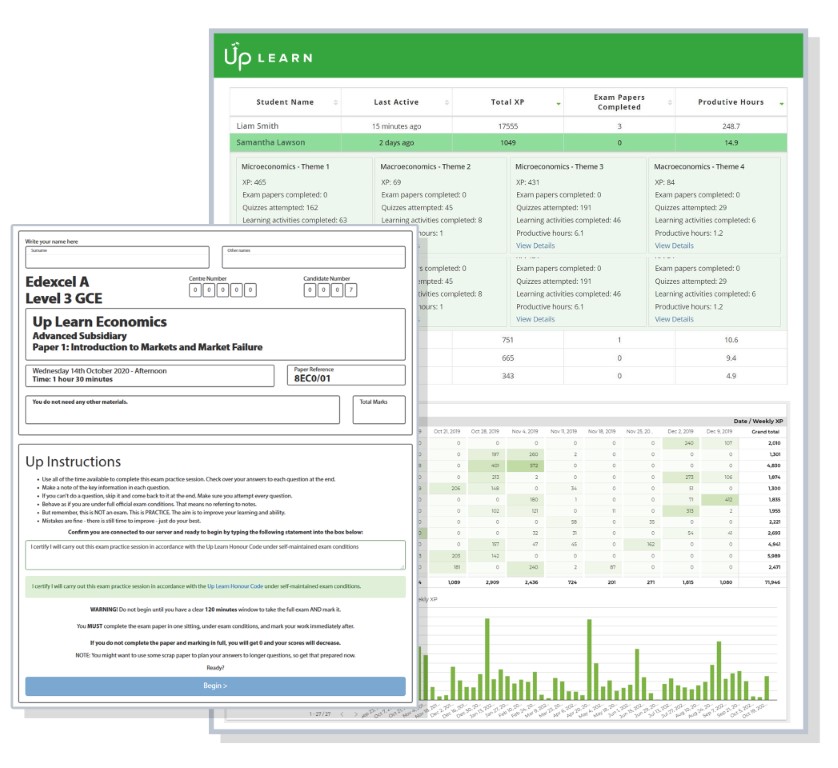 WHAT WE COVER
Our subjects
We have exam-board specific courses for AQA, CAIE, Edexcel, and OCR. If you're on a different exam board, choose whichever matches your syllabus the most!
Frequently asked questions
I'm in Year 12 – why is it so important to get Up Learn now (rather than wait for Year 13)?
The sooner you use Up Learn to start building your knowledge, the more effective your learning will be.

Equally, Using Up Learn in Year 12 helps you get the best predicted grades and reference possible.  These are important aspects of your university application.  So, if you want to smash any interviews and gain an offer from your dream university, use Up Learn as soon as you can!
If 2021 exams have been cancelled, how can Up Learn help me get top grades?
Up Learn enables students to master their subject by understanding each topic through and through. Thus, as long as the method of grade assessment tests a student's knowledge of the subject (e.g., external exams, internal exams, classwork, homework, oral presentation, coursework, etc), Up Learn will help students get top grades.
Is completing an Up Learn course hard?
You'll be surprised at how quickly you can fly through an Up Learn course. Engaging content helps students retain knowledge, so all of our content is made to be as engaging as possible.

Courses take 8-16 weeks to complete from scratch, based on 1 hour per day. This varies by student and subject – many students will not need to start from scratch to attain A-A*.

Students describe us as "Netflix for education" – binge watch some videos and watch time fly!
If I don't intend to complete the course, is there any point to me having Up Learn?
Even if you choose not to complete Up Learn, you will find the interactive videos (where you can search for topics to get help) and 1-2-1 tutor support invaluable when you come across something you don't understand. Students find our quiz questions and practice exam papers indispensable when revising. Up Learn is immensely effective in helping you achieve the best results in the shortest time possible. Many students choose not to complete the course, but still see their grades increase by an average of 1-2 grades.


Will Up Learn work for me?
We've designed Up Learn so that it will work for everyone.  It doesn't matter what your background or starting point is. Sign up for a trial and see for yourself!

---
Copyright © Up Learn Limited 2020. Registered company in England and Wales (number: 10010657). VAT Reg. No GB 249 7670 58.